One area that I know that I struggle with, as a married adult, is making consistent time for date nights with my wife. When we first got married, we never went out on date nights. Within a couple months of being married, Elisa became pregnant with Sydney. We've pretty much had children around us for the entirety of our marriage. Now, this is no excuse really but between working, being a parent and just generally not having a lot of extra cash for the first seven or eight years of our marriage, setting aside time for date nights was not a priority for me.
It should have been.
While I still struggle at this (Elisa has to remind me often that we haven't gone out lately), I do feel like I have improved over the last few years. Now, my challenge is to find something to do that is new for us. We want to do somewhat non-traditional date nights and try new things.
Carlwyn recently posted up some content at Mantelligence that addressed this very thing. If you are like me and are looking for some new ideas for your date nights, take a look at this list and see if it generates some thought.
---
Whether you've been dating for a while or new to it, having an arsenal of date ideas is key to an exciting and exhilarating dating life.
As with most things, all ideas aren't created equal.
That's why I am here. Today we're going to dive into some of the best activities for couples.
Let's do it.
There are good ideas but then there are great ideas. The key to success is how and when to use them.
1. Take A Trendy Workout Class
Learning a new exercise together can be fun and intriguing.
It might test your level of fitness, flexibility or even ability to learn on the spot but what makes this great is the fact that you get to go through the process of learning it together.
2. Fulfill Your Bucket List
Fulfilling your bucket list can be one of those great things to do. From skydiving to wine tasting, our bucket list can cover both ends of the spectrum.
Create great memories by crossing a few items from each others' lists.
3. Hot Air Balloon Ride
Take a ride up above the clouds. Enjoy a breathtaking view with your love.
You might want to celebrate the beauty with a glass of wine.
4. Snorkeling
Spend some time with sea creatures and underwater ruins.
Take pics or just fetch the amazing moments into your mind.
5. Star Gazing
When you think about romantic evenings some things that cross your mind include wine, picnics, and star gazing.
Stargazing is a great way for couples to relax and connect with each other.
It is said that stargazing sparks conversations about the deeper things in life.
6. Check Out A Trampoline Park
There's no greater place to bring out the child in you than at a trampoline park.
There's no harm in a "play date". Playing brings out the best in us and helps us to relive our happiest moments.
7. Have Brunch
There's just something special about a brunch date, man.
Choose a nice, cozy spot to have brunch and it'll be a winner every time.
8. Go Horseback Riding
This can be a thrilling experience especially if you've never done it.
Horses are majestic and can run at high speeds.
The experience can be electric. You won't forget it.
9. Hit The Amusement Park
Don't worry about awkward silences or conversation starters. Here, you'll have plenty of fun things to do and many things to talk about based on what happens there.
10. Have A Three-Course Dinner… At Different Places.
Have a night out on the town.
The appetizer at one spot, main course another and dessert at the final location.
This can make for an exciting date experience.
11. Play Truth Or Dare.
On a first date, you're still getting to know about your significant other.
Truth or dare questions can help you to get some answers to some questions you've been dying to ask.
And also, get an idea of their personality based on what they ask you to do or answer.
12. Go To A Baseball Game
Enjoy the excitement of a sporting event such as a baseball game on your first date.
It will take the tension off of having to engage in conversation all night.
Also, it gives you a lot to talk about during and after the date.
13. Go To The Beach
Have a relaxing first date by spending time at the beach.
This gives you an opportunity to engage in many different activities while getting to know each other.
14. Head To The Zoo
Visiting the zoo can be a good first date option.
Observing animals and engaging in conversation is a solid start to dating.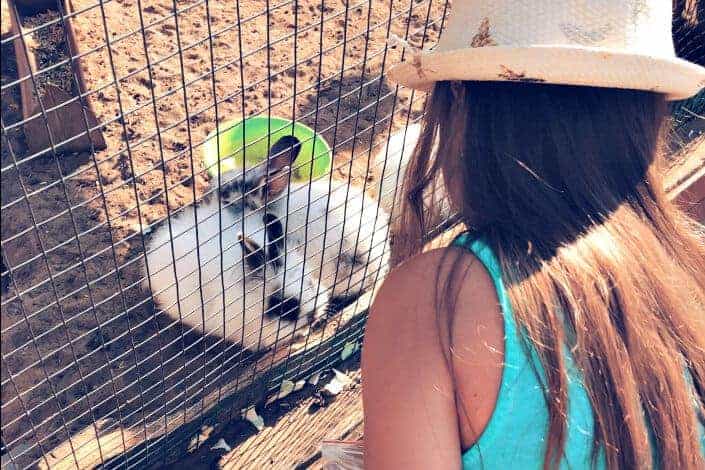 15. Belt It Out At Karaoke.
So you've already broken the ice on the first date. Now it's time to get crazy.
So you thought you were the karaoke king? Just pass the mic when you're done and observe what she can do.
16. Go Bowling.
Competition is always a good way to have fun on a date with your significant other.
Bowling is one of those good date activities that foster competitiveness.
Bowling is fun and is a great second date option.
17. Pamper Yourselves
Maybe get a couples massage, pedicure and/or manicure.
The relaxing environment would naturally cause you to open up to each other.
18. Axe Or Knife Throwing In Which No One Dies
Challenge your precision and throwing skills with ax or knife throwing.
But ensure it's safe and there's a professional around to give guidance.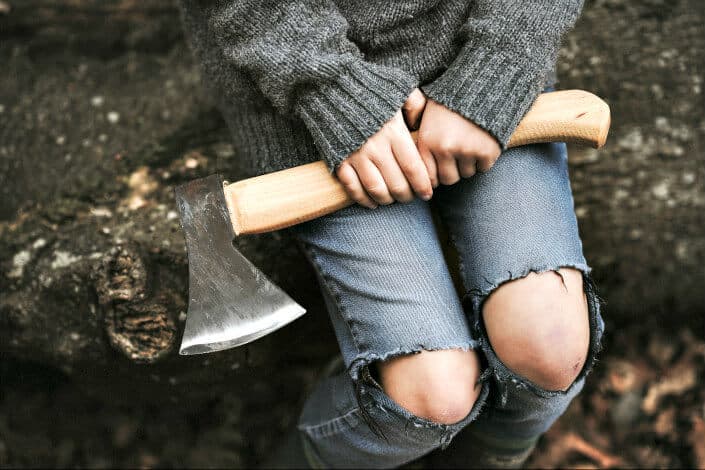 19. Take A Sunset Stroll
Taking a stroll at sunset can be romantic.
Pick a place with a great view to amplify the experience.
20. Go On A Road Trip
Going on a road trip with your special one is bound to be awesome but imagine sharing that experience with another couple you're fond of.
This can compound all of the fun experiences on the road. Adding another couple means adding two more personalities and, of course, more diversity of music preferences.
21. Plan A Joint Picnic
Invite another couple and share this amazing experience.
More people means more food, more options for activities and more fun.
22. Go Kart Racing
Competition helps to breed healthy relationships. Also, you can have something to rave about for the next week if you come out on top.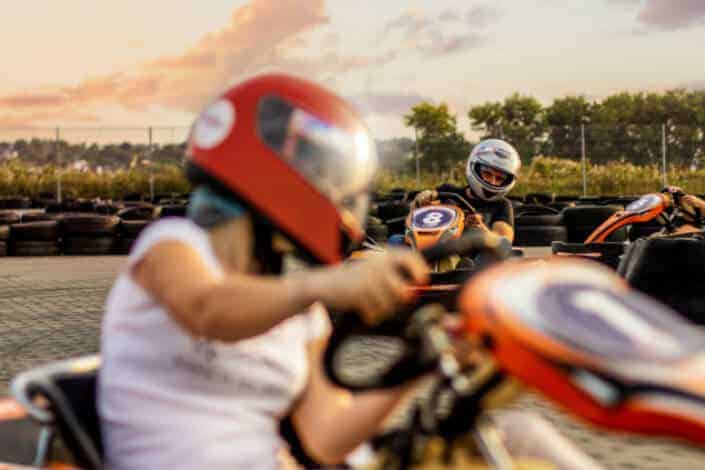 23. Play Charades
What good are charades if you don't have an audience to contend with?
Playing charades on a double date is a great way to mix and mingle with another couple and to have fun.
24. Decorate A Christmas Tree Together
Put on some of your favorite Christmas music, dim the lights, make hot chocolate and have a great time decorating a Christmas Tree.
Whether it's the holidays or not, the atmosphere and experience would lead to memories lasting a lifetime.
25. Have Breakfast For Dinner.
Confuse your taste buds by switching things up a bit.
Deliberately eating breakfast for dinner can be a fun experience.
26. Cook Dinner Together
Spend time together in the kitchen. This can be a fun and intimate experience.
Try not to burn the food though.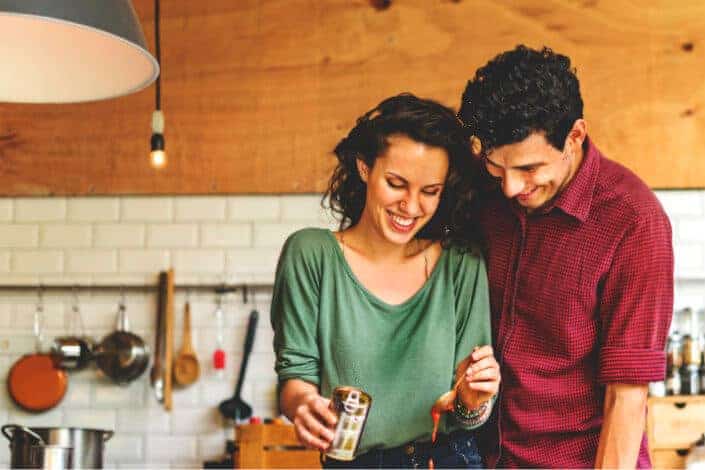 27. Take A Train Going Nowhere
The mystery and adventure that awaits might cause some anxiety but the key is to enjoy each passing moment together.
It can be fascinating how appreciative you are of each moment when you're uncertain of what's next.
28. Write Each Other Love Notes And Spend The Night Reading Them.
Have a romantic evening by reading love notes you've prepared for each other.
This can be done as an activity or it can be done at random moments throughout the night.
29. Take A Dance Class
Learning something together will build a strong bond. Also, dancing can be entertaining and enjoyable.
30. Take A Walk
This is not your usual walk. This is a scheduled walk. A date.
Select a nice place. Maybe somewhere with a great view.
Engage in meaningful conversation and talk about what you see.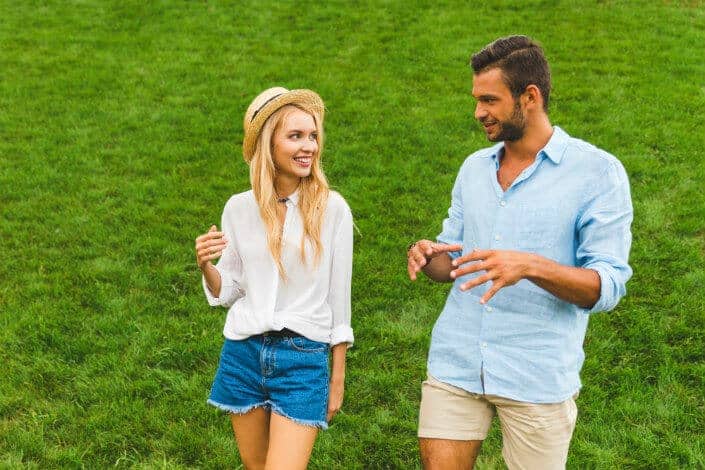 31. Visit An Animal Shelter
Take a trip to an animal shelter and observe the animals. Maybe think about the possibility of adopting one someday.
Maybe even talk about what it would be like to have a few selected animals as pets.
32. Get Ice Cream
A date can be as simple as getting some ice cream and spending time together.
Maybe even sample your significant other's favorite flavor.
33. Do A Sunrise Meetup
Imagine meeting your significant other somewhere to watch the sunrise and enjoy the tranquility of the morning.
Maybe even have breakfast together. Starting the day together is a great way to set the tone for the day.
34. Enjoy A Bonfire
Spend time around a bonfire. Maybe tell some ghost stories and sing some folk songs while you're there.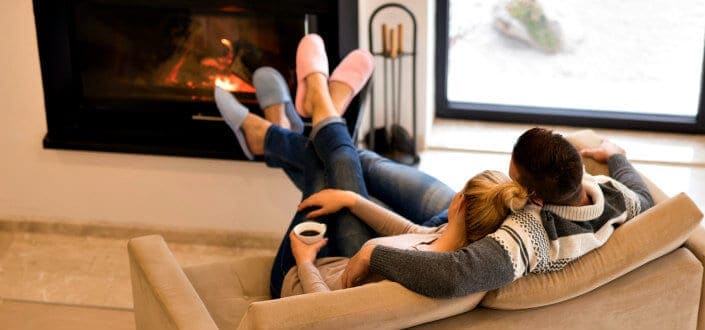 35. Plant Your Own Garden
Spend some time plowing, planting and taking care of a garden and you're in for an interesting date.
It can open doors for discussions of topics you probably never knew your partner had knowledge about.
36. Play Video Games All Night
A video game night would be a great way to include her in your hobby so that she can have an appreciation for something that you like.
Just get some snacks and let the games begin!
37. Make Personalized Scavenger Hunts For Each Other.
Whatever the theme is for the hunt, conceal items that relate to it and create relevant hints to give your partner.
A mystery based at home date such as this will definitely be a winner and will create memories that will last a lifetime.
38. Write Your Bucket Lists
Take the time to write a list of things you want to do and/or experience as a couple. This can be a dream list that may be out of your reach or smaller achievable things that you can then make a plan to begin ticking them off of the list.
39. Have A Backyard Picnic
Instead of a trip all the way to a nearby park, the mountains or somewhere with a view, your backyard can work just the same.
40. Power Outage Date Night
It can be an amazing and exciting experience to detach from distractions and all the "normal" that requires our attention to focus on what matters at this moment – your significant other.
Light candles, tell stories, play games and do whatever it takes to make it memorable.
41. Hire A Ballroom Dance Instructor For A Private Lesson
Learning together as a couple is a great way to bond and have fun at the same time. The dance instructor is just there to ensure you don't step on each others' toes or hurt yourselves in the process.
42. Have A Fun Time With Water
Play dates are not only for children.
Physically playing together can spark a fondness for each other and build a deeper appreciation for each other outside the confines of romance.
43. Style Her Hair
Imagine a guy who has never done a hairstyle or anything similar in his life attempt to do the hair of his significant other.
The outcome will either be disastrous or miraculous. To add excitement (and for show and tell) document the experience either with videos or before and after pictures.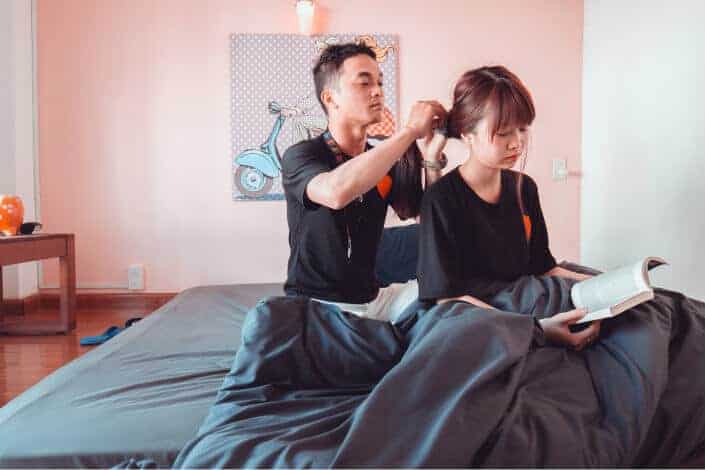 44. People-Watch From The Comfort Of Your Car Window.
Sit in your car and not only watch people but narrate their lives.
This is a great opportunity to be funny and creative while spending time with that special someone.
45. Take Aim At The Gun Range
Have a thrilling experience with your special one by spending some time at the gun range.
Learn the skill of shooting together and even compete with each other to perform well.
46. Bathe In A Waterfall
This sounds like something straight out of a movie scene but this is your movie and you are the star.
Enjoy a romantic bath with your significant other in a waterfall and make thrilling memories to last a lifetime.
47. Climb A New Peak And Open A Bottle Of Wine There
Enjoy an adventurous climb. After conquering the mountain, celebrate with a glass of wine.
Celebrate with a picnic even. You deserve it! Just don't sit too close to the edge.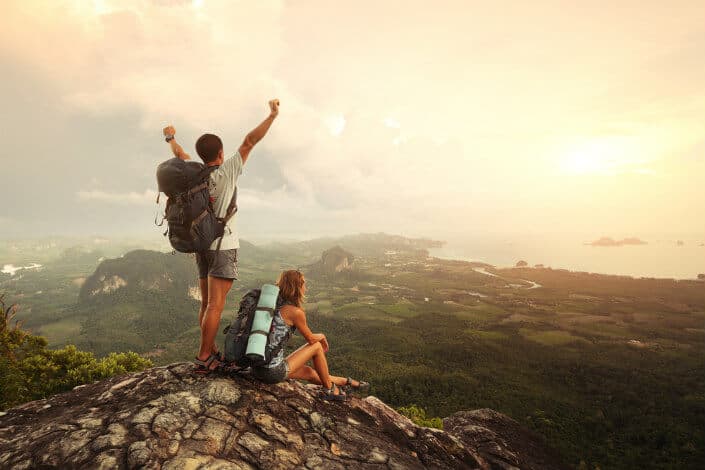 48. Go Bungee Jumping Together
This is a no-brainer for adrenaline junkies but for couples that aren't usually adventurous, this would be a big leap.
Nevertheless, it can be a thrill and an experience of a lifetime if you have the guts to try it.
49. Go To The Airport And Buy A Ticket For The Cheapest Destination Of The Day
Be spontaneous. Imagine going to the airport not having a clue where you're headed.
I can feel the anxiety building already.
50. Go Skinny-Dipping In The Nearest Lake.
No matter your age, skinny-dipping can be an exciting thrill for couples.
It's risky and bold. The experience will never be forgotten.
51. Ski Or Snowboard Only In Your Underwear
Besides the possibility of freezing your nuts off, I'd say this would be fun to do.
Just avoid falling off into the snow on to your almost naked rear end.
This adventure could be thrilling, to say the least.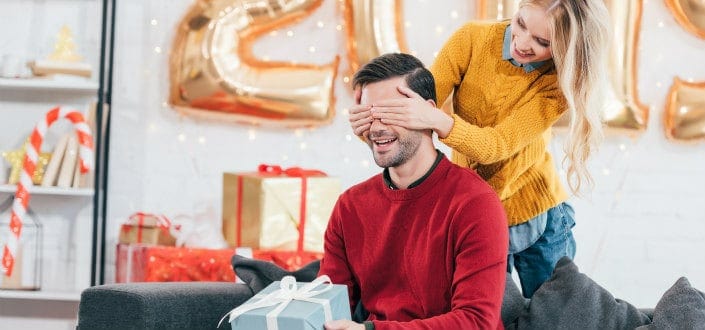 52. Buy A Cheap Canvas And Paint Portraits Of Each Other.
Imagine two human beings, untrained in the arts, attempting to paint each other. The experience would be nothing short of fun and unique.
Whatever the creativity and skill level of the couple, this can be a great option for a memorable anniversary experience.
53. Draw A Cartoon Of How You Met In Sidewalk Chalk On Your Driveway.
Get creative. Each of you can draw your own comic about how it all started or you can come together and make a single one.
Whichever option, it will bring a new appreciation of where you started to how far you've come.
54. Set Up A Tent In The Backyard And Order Takeout.
Utilize the backyard and create a new experience by setting up a tent and ordering take out.
Enjoy the great outdoors without leaving the comfort of your yard.
Spend time engaging with each other and, of course, enjoying the food.
55. Give Each Other Massages At Home.
Everyone likes to be pampered. Even more so when they're receiving it from their significant others.
If you can, take things up a notch by creating a spa-type atmosphere with a massage table and scented oils and give each other massages as if it were a professional service.
56. Find A Hill Or Mountain In Your Area And Go To The Top At Night To Look At The City Lights.
Taking a step back to view things from a different perspective can bring a greater appreciation for the things we unknowingly neglect.
This opens up the door for you to take a step back to look at things from where you are now while reflecting on how far you've come and thinking ahead to what the future holds.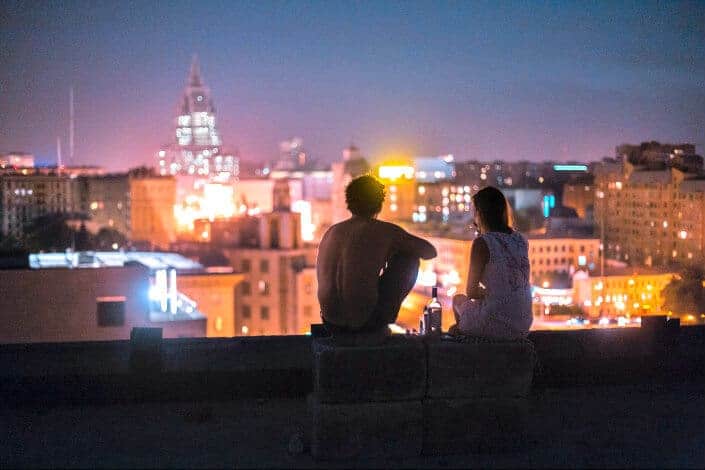 More Great Tips On Taking Her Out
If you want more ways on taking her out, or you're wondering how to have the best dating experiences, check out these other helpful articles:
How To Pick The Perfect Date Idea: 3 Steps
Dating can be fun and exciting but it can be difficult to choose the perfect date that you and your significant other will truly enjoy. So we created a guide to help you decide which awesome date idea to go for!
Here's how to choose the perfect date idea:
1. Assess Your Relationship
Take a step back and look at how much you know the person, how comfortable you are with each other, etc. For example, it would be unwise to ask your date to prepare love notes to be read on the first date.
2. Know Your Partner
Know what their likes, dislikes, and hobbies are. Know what they appreciate. This would influence what ideas you would choose and when. For example, if your partner is affected by lights in the nights you won't take them to a live concert.
3. Pay Attention To The Season

This could mean anything from the weather to the season of your relationship. For example, your partner is pregnant certain activities would be out of the question or if it's winter you probably won't have a picnic in the backyard.
In Conclusion
If you want your dating life to have fun and excitement that lasts, you need a bunch of date ideas at your disposal.
With the comprehensive list of activities for couples, you should be able to have lasting memories with your partner.
Whether you are at the stage where good ideas are sufficient or if you need great ideas to wow your partner, the list above is surely made for you.
---
Life is Strange. Live it Well.